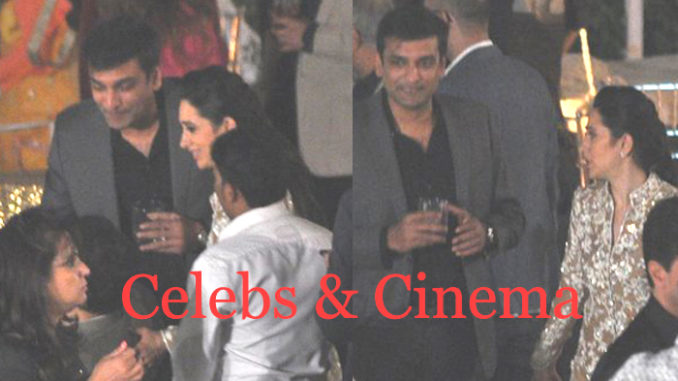 So, who is Sandeep Toshniwal? That's the question haunting many people's mind. Most know Sandeep Toshniwal as Karisma Kapoor's alleged boyfriend. Some know further that he is the CEO of a pharmaceutical company. But what is Sandeep's background and from where did he enter Karisma Kapoor's life? Celebs & Cinema digs deep to bring his past, present and future to the fore for its loyal readers. We suggest, grab a tub of popcorn, relax and read further as these interesting facts about Sandeep Toshniwal's life, mainly his childhood, will surprise you no end.
Sandeep Toshniwal has now become a celeb, and cinema's world's one of the most talked-about names after allegedly being in a relationship with Karisma Kapoor. As a child, Sandeep used to stay at the now-posh locality in the heart of Mumbai, Prabhadevi, till 1987-88. His father, SS Toshniwal was already a known name in the entertainment industry as the Toshniwal family had a huge business of manufacturing blank audio and video cassettes back in the 1980s with the name of Black Box TDK. Since the technology was not so advanced those days, CDs and DVDs were never heard of, blank audio cassettes was a rage as one could have the choice of songs recorded. As the head of the Toshniwal family, Sandeep Toshniwal's father sensed the pulse of the market and expanded the TDK business manifold. They also started venturing into other businesses. It is said that an income tax department had raided their premises around 30 years back. But the Toshniwal family was known to be very grounded and soft-spoken.
RELATED: After Kareena, Karisma Kapoor also to share good news?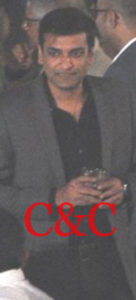 As Sandeep spent his childhood in the well-known society in Prabhadevi, Mumbai, till 1988, he was raised to a strong and decent family background during his growing up years. Sandeep had two siblings, eldest brother Sanjay Toshniwal and an elder sister, him being the third child in the Toshniwal family. They soon moved out of the society, in 1987-88, after residing there for about a decade. This was after the income tax raid. Being well-groomed and coming from a well-cultured family, the Toshniwals made their mark wherever they went after shifting their residence.
Apart from the expensive lifestyle, late night parties and roaming around with a select set of friends was what Sandeep liked even as a child.
Before he grew up to date Karisma Kapoor, and become the CEO of a Mumbai-based pharmaceutical company, Eurolife Healthcare Pvt Ltd, as a child Sandeep Toshniwal had all the toys in the world to play with. A small example would be that he was seen roaming around with walkie-talkies which his father had purchased to be in touch with the family. This was something which was unheard of back in the 1980s as the telecommunication industry was still in its nascent stage. Telecom revolution, including pagers, mobile phones and wireless communication, was still a few years away. With such a rich background, both in terms of financial and family-values, it was only a matter of time Sandeep Toshniwal would fly high with success. Apart from the expensive lifestyle, late night parties and roaming around with a select set of friends was what Sandeep liked even as a child.
Cut to present, Sandeep Toshniwal married Ashrita in 2003 and had two beautiful kids with her. Thanks to his ever-expanding fondness for socialising, Toshniwal seems to have bumped into Karisma Kapoor at one such gathering, and dumped his wife Ashrita Toshniwal. Ashrita is a practicing dentist. Inner circles believe Sandeep to be a good father, as his own children and even Lolo's kids are fond of him. They say life starts at 14 and 40, and with Sandeep Toshniwal all of around 40, the entrepreneur seems to be ready for his alleged second innings in marriage with Karisma Kapoor, after possibly divorcing wife Ashrita Toshniwal. Rumours also suggest that Karisma Kapoor, fondly called Lolo, has officially introduced Sandeep Toshniwal as her boyfriend at father Randhir Kapoor's lavish 70th birthday bash held on Thursday.
ALSO READ:
SCOOP: What went wrong between Bipasha Basu and John Abraham in 2011?