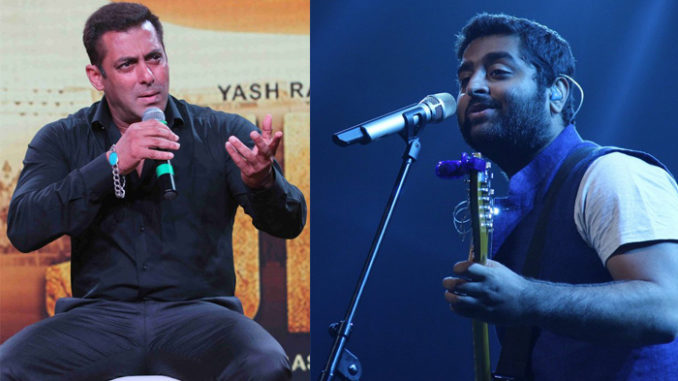 Arijit Singh, a well-known musician of Bollywood, went on to publicly apologise to Salman Khan. The 'Kyunki Tum Hi Ho' singer posted a lengthy apology on Facebook, requesting Salman Khan to retain his song in Yash Raj Films' next Bollywood movie 'Sultan'.
A the history behind this tiff goes back to the Star Guild Awards in 2014, when Salman Khan asked Arijit Singh, who came to receive his award, if he had been sleeping. To this Arijit replied saying that Salman Khan and Riteish Deshmukh's hosting made him doze off. Although Salman Khan immediately tried to pull a fast one back on the singer, the celeb and cinema world star reportedly already felt insulted by this time, after Arijit Singh's comment, and the actor has now apparently chopped off the crooner's song from 'Sultan'. The song is question is a pub number from this Yash Raj Films' produced project.
After repeated attempts of meeting by messaging and calling up Salman Khan to apologise, Arijit Singh finally took to social media to post a lengthy letter. While the singer deleted his Facebook post later, here's what Arijit Singh's apologetic letter to Salman Khan read:
"Dear Mr Salman Khan,
This is the last way I thought I would speak to you. I have been trying to text you, call you and do everything possible to tell you that you are mistaken about the fact that I insulted you. I never did. That night in the show, it was the wrong time and the wrong aura.
Nevertheless, you felt insulted and I understood and I felt extremely sorry about it, as my family and I have been your fans since long. I tried to explain so many times but you never got it. I apologised but you never got it. How many times I sent you apology texts, you also know.
At Nitaji's place I only came back to apologise to you but you didn't get it. No problem. I apologise here In front of everyone. But please, it is a request, please do not remove the song that I sang for you in 'Sultan'. You want anyone else to sing this song, absolutely fine. But keep a version, at least. I have sung enough songs, sir. But I want to retire with at least one song of you keeping in my library. Please do not take away this feeling.
I don't know why I am doing this. I know the consequences. People are going to write their heart and mind and everything. I also know you won't be bothered, Mr Salman Khan. Still I think I need to take it out. After all, I have to live with this fact that you made sure that I don't sing for you even though so many of us requested.
But I will be a fan, bhaijaan.
'Jagg ghumeya, thare jaisa na koi'.
Regards,
Yours truly,
Arijit Singh
Let there be light."
After deleting the post written for Salman Khan, Arijit Singh wrote another note concluding, "I hope he gets my letter through someway. PS: This whole thing will backfire at me, I know. Prayers."
Will Salman Khan accept Arijit Singh's sorry and pardon him? Time will tell.
ALSO READ:
All you need to know about Salman Khan-Kabir Khan's next movie!