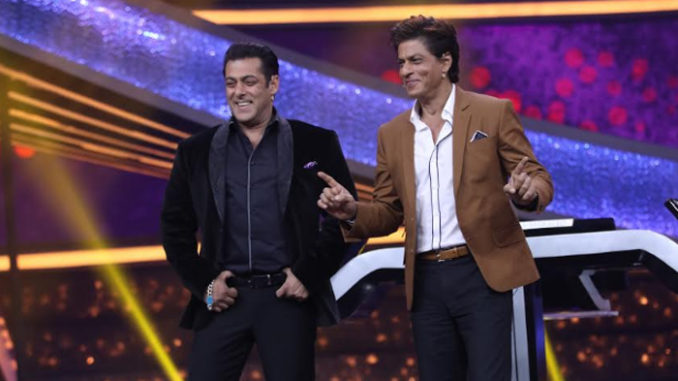 Shah Rukh Khan
managed to take some time out to appear on Salman Khan's game show finale, 'Dus Ka Dum', the TV programme being aired on one of the top GECs. Reminiscing his early days in the entertainment industry, Shah Rukh credited Salman's father for all the support he received as an aspiring actor. Getting nostalgic, SRK said, "The first time I came to Mumbai as a struggling actor, I had my meals at Salman Khan's place where Salim Khanji supported me a lot. It is because of them I have become Shah Rukh Khan. I have come on the show only because of Salman Khan and will go wherever he asks me to." SRK was accompanied by Bollywood actress Rani Mukerji, who has worked with both the Khans in the 1998 hit 'Kuch Kuch Hota Hai', on 'Dus Ka Dum'.
Exactly a year ago, in September 2017, Salman Khan was feeling the heat of competing with Shah Rukh Khan as both the celebs and cinema stars were hosting their respective TV shows. While Sallu was gearing up for 'Bigg Boss 11', SRK was roped in to do 'TED Talks India: Nayi Soch'. Talking about the same, Salman had then said, "Shah Rukh is a great host. He has his own charisma and swag. I think it is going to be quite a tough competition, for them," tongue-in-cheek, about Shah Rukh and Akshay Kumar as well, who too was preparing for 'The Great Indian Laughter Challenge' on TV.
That Salman and Shah Rukh's friendship goes a long way is no secret to anybody. Both the celebs and cinema stars have made special appearances and cameos for each other numerous times, be it in their films or for TV shows they host.
ALSO READ:
Shah Rukh Khan