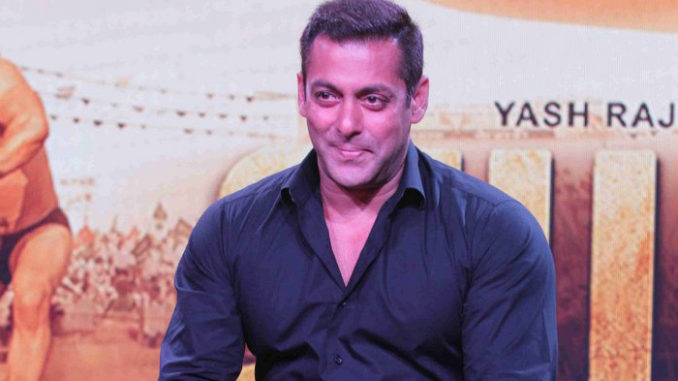 Trust Salman Khan to come up with the quirkiest Bollywood projects. The celeb actor's production house, Salman Khan Films will now invest in a rags-to-riches story of a striptease nightspot owner. Salman Khan has revealed that his upcoming venture will be a biopic on Somen Banerjee. Somen Banerjee travelled from Kolkata to Los Angeles and founded Chippendales, a nightspot known for its male striptease artists in the 1970s and '80s. Somen Banerjee, also known as Steve Banerjee, migrated to America in search of a better life and went on to own an iconic hotspot. He called it Chippendales. Apparently, the script for this Bollywood dramatic tale is being worked upon and the filmmakers plan to do a feature film as well as a mini-series. The cinema promises a high dose of power and greed.
While his production plans for the Bollywood film on male striptease club Chippendales are being worked on, Salman Khan is currently shooting for 'Tubelight' with Kabir Khan in Manali. The duo plans to recreate festive magic, as 'Tubelight' will hit the screens on Eid in 2017. Apart from these Bollywood commitments, Salman Khan will also begin shooting for his reality TV show 'Bigg Boss' season 10. Amidst all this, producer Salman Khan is yet to chalk out a perfect plan for the Somen Banerjee biopic or his striptease club Chippendales.
Who is Somen Banerjee, the male striptease club owner?
Somen Banerjee was born in Mumbai and travelled to Los Angeles, USA, to set up a business there.
After a failed business as a gas station owner, Somen invested in a disco and successful began a chain of clubs by the name of Chippendales.
Somen Banerjee owned Chippendales in Los Angeles, New York, Dallas and Denver.
Male exotic dance night was the main attraction at his clubs, pulling in a lot of female crowds in the 1970s.
However, in 1993, Somen was accused of murder-for-hire in his former business partner Nick DeNoia case, who was killed by an unidentified person in 1987. Reports also state that in 1990, the owner of Chippendales was also charged with hiring a hitman to kill three of his former associates of the nightclub, who were later associated to a rival male dance group called Adonis.
Hours before he was to be sentenced for the murder of Nick DeNoia, Somen Banerjee committed suicide in his cell in the Metropolitan Detention Center on October 24, 1994. According to LA Times, the 47 years old Somen Banerjee cut the air flow by tying a bed sheet around his neck and placing it on a wall-mounted jacket hanger. He pulled down on the sheet while in a kneeling position, which caused his death.
ALSO READ: