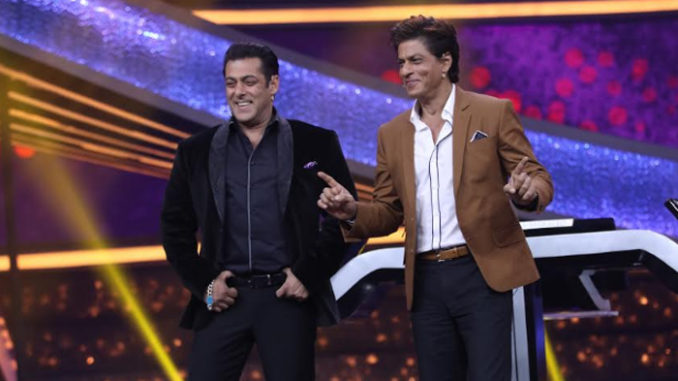 Salman Khan and Shah Rukh Khan make for one exciting Bollywood 'jodi', which is rarely seen together, especially in Bollywood films. While the duo has shot together for several TV shows and cameo roles in movies, after the 2002 release, 'Hum Tumhare Hain Sanam', the celebs and cinema stars are yet to sign up for a full-fledged Bollywood film. On asking whether he would like to work with Shah Rukh again or not, Salman says, "If there is a good film opportunity that comes to us, we will definitely work together. Shah Rukh was generous enough to do a guest appearance in 'Tubelight' for us. And you'll watch me with him in 'Zero' too." For those who joined in late, Salman has shot for a cameo in Shah Rukh Khan-starrer and Aanand L Rai-directed 'Zero', which is scheduled to release in December this year.
Shah Rukh and Salman's friendship goes way back when the former was still a struggler in Bollywood in the late '80s and early '90s.
Shah Rukh
recently spoke about how Salman's father Salim Khan supported him during his initial days in the entertainment industry. Now a superstar, SRK used to eat hearty meals at Sallu's residence when he had almost nothing in his pocket. While Salman wants to work with Shah Rukh if the opportunity arises, the latter too wants to grab the chance without any hesitation. "I will go wherever he asks me to," Shah Rukh Khan had recently said talking about Salman Khan and whether he will be seen together with Pocket Hercules more often.
For long time in-between, Salman and Shah Rukh's friendship had gone sour and the celebs and cinema stars were not on the talking terms with each other. Letting bygones be bygones, Shah Rukh and Salman shook hands, hugged each other and made up for the lost time in their friendship.
ALSO READ:
Shah Rukh's Zero to clash with Anupam's Prime Minister in December