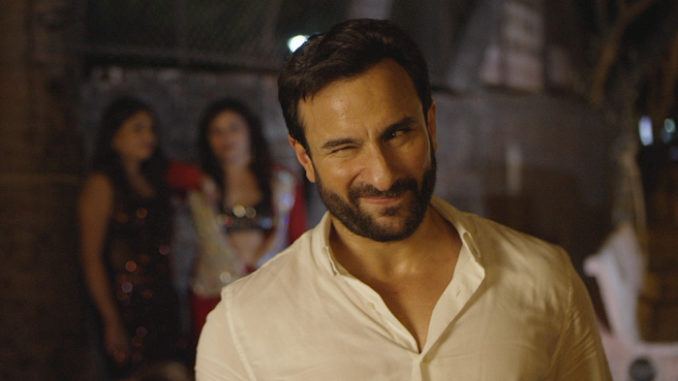 'Kaalakaandi' marks Saif Ali Khan's 60th Film
The very versatile actor Saif Ali Khan has spent 25 years in Bollywood entertaining his audiences with films like 'Dil Chahta Hai', 'Salaam Namaste', 'Omkara', 'Being Cyrus', etc is set to mark his 60th film with 'Kaalakaandi'.
Deepak Dobriyal turned a Hariyanvi tutor for his co-stars
While shooting for the song 'Swagpur ka Choudhary', which has Haryanvi lyrics, the actors found the song difficult to connect with and were not able to bring out the essence of it. That's when Deepak Dobriyal, who plays a gangster in the film, came to their rescue and explained the meaning and the feel of the song post which the actors could easily slip into the mood.
Neil gets inspired by Amitabh Bachchan for his character in 'Kaalakaandi'
Neil Bhoopalam will be seen playing the role of an underworld don and a sharp shooter in 'Kaalakaandi'. His look in the film resonates the 80's sense of style with long side locks, bellbottoms and tight shirts. The actor took Amitabh Bachchan as his character reference. He watched a lot of Amitabh Bachchan movies and tried copying the veteran actor.
Saif Ali Khan turned choreographer for 'Kaala Doreya'
Saif Ali Khan is known to be one actor who doesn't shy away from experimentation. The actor turned choreographed for the wedding song 'Kaala Doreya' in the film. He has earlier choreographed a few songs which have become cool steps, like his moves in 'Woh Ladki Hai Kahan' from 'Dil Chahta Hai'.
Nary Singh's fan girl moment!
Nary Singh who is one of the most talked about characters in 'Kaalakaandi' had a fan girl moment when she shared screen space with Saif Ali Khan. Nary was absolutely awestruck and extremely nervous while enacting her scenes with him. When director Akshat Verma highlighted this to Saif, he took time to help her ease out and make her comfortable.