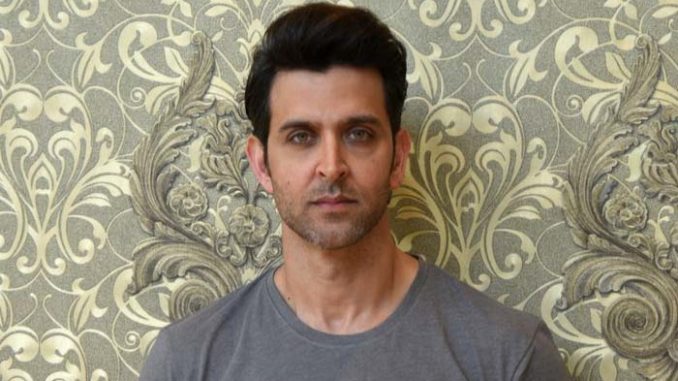 Celeb and cinema star
Hrithik Roshan
has brilliantly portrayed an array of characters on the silver screen, from the innocent Rohit in 'Kaho Naa… Pyaar Hai' to a superhero in 'Krrish'. Experimenting with his character this time around, Hrithik Roshan will now play differently abled in 'Kaabil'. The Bollywood actor plays a blind dubbing artist Rohan Bhatnagar. Directed by Sanjay Gupta, 'Kaabil' is a revenge drama produced by Rakesh Roshan. From researching about blind people to sharing the frame with Yami Gautam, and a clash with 'Raees', Hrithik Roshan gets chatty in this tell-all interview!
Describe your character in your upcoming Bollywood film, 'Kaabil'.
Rohan Bhatnagar is a very simple person. Despite being blind, he is very independent and self-reliant. You wouldn't ever feel that he is helpless or needy. Rohan is very sweet, just the way I am in real life (laughs).
What did you learn through your research for this Bollywood film?
When we researched, we found out that the blind people in the world are not the way we imagine them to be. So it was a responsibility to project the truth of the society. With the truth comes progress and awareness. These days, there are a lot of misconceptions about the blind people. I want to emphasise that they are differently abled. We are at fault as we portray them wrongly in our movies. So we have to rectify that mistake. In the blind world there are photographers, body builders, cricket players, CEOs and lawyers. There should be no reason to overly sympathise. So with 'Kaabil', we decided to portray the real world of the differently abled people.
Did you indulge in any special preparations for the role of blind in 'Kaabil'?
While researching for my character of a dubbing artist, I read that one can recreate anyone's voice in the world if you get control of the muscle of your vocal cords. One can actually alter their pitch and tone to match someone's voice. That information helped and assured me that if I practice, I can do it.
How was the experience working with celeb and cinema star Yami Gautam for the first time?
Working with Yami Gautam has been one of the most enriching experiences of my life. She is not just a good actor but also has the innocence and courage to be vulnerable as a human being. Only when you are vulnerable can you express your emotions. Yami also agreed with the kind of thought I had for the characters and she took it further. I think she is going to go a long way.
Can you narrate any interesting anecdote from the sets of 'Kaabil'?
I am a good dancer, but in a particular shot for 'Mon Amour', I liked the way Yami was doing a distinct step. Her style was really good and had a different flair to it. I wanted to do it just like her! I asked her to teach me and I copied what she was doing.
You have nailed Amitabh Bachchan's deep baritone for a scene in 'Kaabil'. How did you manage to pull that off?
There is a scene in the film where I have spoken in Mr Bachchan's voice. Of all the voices in the world, Mr Bachchan's voice! First I thought that eventually we will request him and dub those lines and I will just act them out. I had to still rehearse for the sets and I practiced for one entire day. When I heard my voice in the Dictaphone, I was not sounding that bad and hence I practiced again. I got a lot of positive feedback that I could do it, so I took the leap of faith and did it myself! Sanjay (Gupta) decided not to get it dubbed and my voice was locked!
Which is that one thing that you will take back from the character?
Sometimes when you do films you take back a lot to your personal life. 'Kaabil' will be a benchmark in my life, an experience which I have lived. In the future when I choose something, I will always compare my choices – is it as invigorating as 'Kaabil'?
From your Greek God image, you went on to gain weight for this film…
It is easy to gain weight. The only thing I had to let go of is the attachment to the labels. Sometimes actors can get very attached to labels like sexiest and six-pack abs. I don't have a problem in letting that go. For 'Kaabil' I knew that if I looked as sharp as 'Krrish' or 'Bang Bang', I would not be truthful to this character. I wanted Rohan to look sweet and it was just a decision I had to take. I prepared myself to face all the questions about my shape.
'Kaabil' will clash with another celeb and cinema star, Shah Rukh Khan's 'Raees'. How positive do you feel about the Bollywood Box Office numbers?
Till now the feedback has been very positive. We are happy and excited that the buzz is so good. Whether it has a consequence on the Box Office or not, I am not too sure. I do believe in Box Office numbers but you cannot run after them. You only do good work and the Box Office collections will come to you. So I just have to do good work.
ALSO READ: