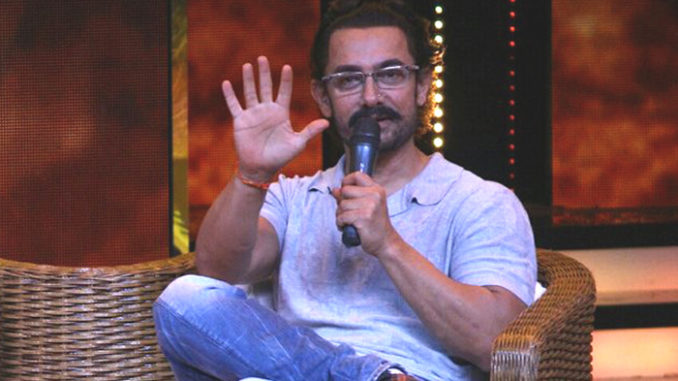 Aamir Khan
has immersed himself in his magnum opus and home production, which will be adapted from the Indian epic 'Mahabharata'. Latest buzz suggests that the actor will soon start training with a professional fitness expert for his next project. Not having signed any other film, Aamir is set to start preparing for his pet project of 'Mahabharata'. The actor had expressed his desire to play the legendary Hindu mythological character of Lord Krishna and is gearing up to change his physical appearance by beefing up for the role. Ironically, the fact remains that the character of Karna is his favourite and the actor has gone on the record many times to reveal the same. Aamir has wrapped up Yash Raj Films' grand action-adventure film 'Thugs of Hindostan' and has diverted all his attention to his ambitious project 'Mahabharata'.
In the month of March this year, it was reported that Aamir Khan's ambitious project 'Mahabharat' will be backed by one of India's biggest businessmen, Mukesh Ambani. The head honcho of Reliance Industries is planning to invest in the Hindu mythology films, which will be made in three to five-part series, at a massive cost of Rs 1,000 crore! Trade buzz suggests that Aamir Khan-starrer 'Mahabharata' will be made on a massive budget of Rs 1,000 crore by Mukesh Ambani, with great attention to special effects. International writers are being roped in to work on the storyline of the epic, which will appeal to global audiences as well.
For those who don't know, Mukesh Ambani has investments in entertainment companies Eros and Ekta Kapoor's Balaji Motion Pictures, while he already owns controlling stake in Viacom 18. However, it remains to be seen if the businessman will go as a solo producer with 'Mahabharat' or he will invest through his existing production arms for Aamir Khan's 'Mahabharata'. For now, Aamir Khan will only act and produce the flick under his home production Aamir Khan Films, but he also plans to eventually turn director. The first film in the 'Mahabharata' series will apparently be helmed by one of Aamir's favourites, Advait Chandan.
ALSO READ: