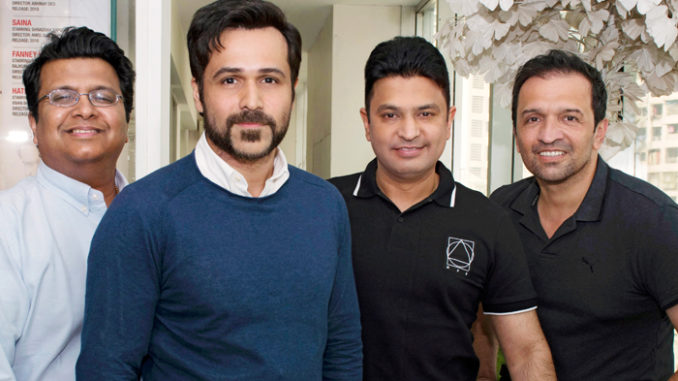 Following the success of 'Tumhari Sulu', T-Series and Ellipsis Entertainment re-unite for 'Cheat India', an edge-of-the-seat drama to be co-produced with Emraan Hashmi Films. The edge-of-the-seat drama, largely inspired by real incidents, will be directed by Soumik Sen.
Emraan Hashmi will headline the film, which takes a startling look at the crimes in the Indian education system that has created a parallel eco-system infested with greed harvesters.  Says Hashmi, "The script and title of Cheat India are supremely powerful. This is among the most engaging and riveting stories I've read in a while and I am thrilled to be essaying what I believe will be a landmark role in my film-ography. I am also looking forward to working with some formidable partners – Soumik, an amazing storyteller, Ellipsis, the new kids with a pulse on clutter-breaking content and marketing, and T-Series, with whom I share an old association on music and films." Director Sen adds, "This film is for every Indian student who is under pressure to excel in a competitive environment. Today's youth will hugely relate to 'Cheat India'."
Producer Bhushan Kumar of T-Series says, "We are increasingly treading the path of strong creative partnerships, and in line with that, we are excited about co-creating 'Cheat India', which, we believe, will reflect the new-age appetite for compelling content rooted in realism." Tanuj Garg and Atul Kasbekar of Ellipsis Entertainment stated, "The projects we are developing are incredibly diverse, varied in scope, and speak to the elevated tastes of audiences today. The story of 'Cheat India' will entertain and uplift, and we're delighted to be bringing it to life." 'Cheat India' is slated for a February 2019 release.
ALSO READ:
Is nepotism dead in Bollywood? Ask the star kids debuting in 2018!