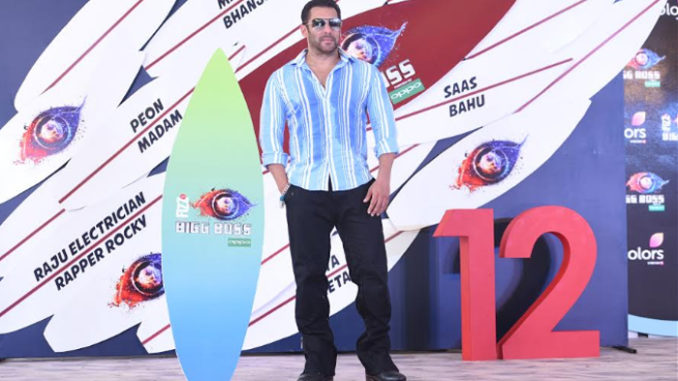 Equipped with daily tasks, weekly tasks, luxury tasks, secret tasks, special tasks and lucky tasks, 'Bigg Boss' is in its 12th season and will astound you with yet another innovative theme – 'Iss bar aa rahi hai interesting Jodi'. Amidst the dreamy setting of a beach, 'Bigg Boss 12' will pack a punch with its assorted couple jodis battling it out to survive 100 days under the constant glare of multiple cameras and host Salman Khan's lively supervision.
Bringing the biggest non-fiction show of Hindi GEC space in its 12th season, Raj Nayak, Chief Operating Officer, Viacom18 said, "'Bigg Boss' is a classic example of disruptive-innovation. The show has not only earned us a loyal audience base over the years but has also earned us rich dividends in terms of our partnerships and alliances. Such is the success story of 'Bigg Boss' that it has hit the right cords in whichever language it has been adapted to. The concept has remarkable potential and through the years we have been able to improvise it with newer themes, elements and faces. The buzz for this season has been overwhelming. Our 9-year long association with Salman Khan has been extremely gratifying and his charm and persona has only made the show larger than life. This year's beach theme with 'unusual jodis' will see some unique couples maneuver their way into the hearts of the viewers and not make them miss a single episode."
Giving a deeper perspective on the upcoming season of 'Bigg Boss', Manisha Sharma, Programming Head – Colors, said, "We have a very good line up of unusual pairings of family and friends from across India. It's a challenge for us to take this show to newer heights every year since it's the most popular brand in the Hindi GEC space."
Returning as the host for the ninth season in a row, superstar Salman Khan said, "'Bigg Boss' is a show that not only the nation looks forward to but even I look forward to it with equal gusto. Though I have been hosting it for eight years, every time it brings in a new experience for me and I make a few more connections. The theme 'vichitra jodis' is very amusing and the vast array of couples that we have shortlisted will surely keep the viewers engrossed. It'll be fun to see whether the jodi's have each other's back or fall apart during the hard times."
After a picturesque launch announcement in Goa, a high voltage marketing and digital campaign for 'Bigg Boss 12' will add adding to the existing buzz about the show. For all the digital savvy viewers, VOOT will showcase exclusive 'Unseen Undekha' i.e all unseen and dropped footage and 'Cutless' – full versions of tasks, nominations, fights and drama. Also being launched is a season two of 'Bigg-Buzz' – the digital extension of 'Bigg Boss' which brings the entire social media universe onto one platform to discuss the weekly on goings in the house.
As the jodis get set to fight all odds and live together for 100 days, their lives will be filled with unique challenges and situations that will test their mettle and be an entertainment bonanza for the viewers. While only the strong-willed will survive, the others will need to give a tenacious fight to save themselves from eviction.
'Bigg Boss 12' will premiere on Sunday, September 16 at 9:00 PM; subsequent episodes to air every Monday to Friday at 10:30 PM and Saturdays and Sundays at 9:00 PM.