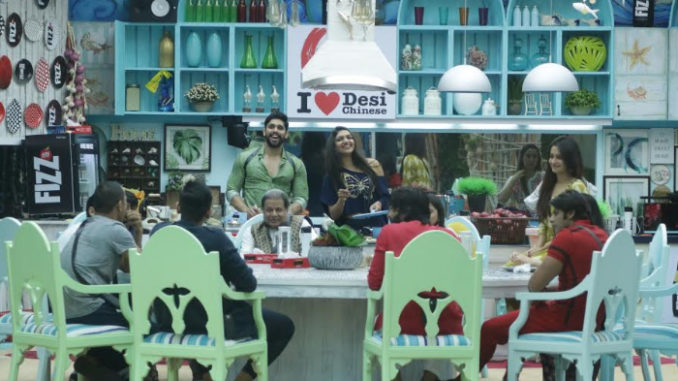 While the drama from day one hasn't cooled down yet, 'Bigg Boss' adds fuel to the flame by waking the contestants up to the song 'Main Khiladi Tu Anadi'. The morning started with the contestants discussing about the fight against the Khan sisters and Shivashish, who engaged in a verbal spat that eventually forced everyone to intervene.
Giving the ladies some rest, the boys took over the kitchen area by deciding to make breakfast for everyone. With Saurabh leading the kitchen, contestants decided to cook what they like, Sreesanth was seen cooking roti and found it hard to make a perfect shaped roti which was to fun to watch for inmates. On the other hand, Anup Jalota also made lachcha paratha that was highly complimented by all. In extension to the first task, 'BB Press Conference', this time the competition will be moderated by the winner of 'Bigg Boss 11', Shilpa Shinde and television star Karan Patel. With Dipika going against the Khan sisters, the task got intense leading to a heated argument. And, the insecurities of the housemates got them to grill the Khan sisters due to which they will have to face the consequences.
Post the aftermath of BB Press Conference, due to an unconditional event, an extremely heated argument takes place between Sreesanth and Khan Sisters which led to the atmosphere in the house being tensed. The housemates were seen soothing the situation, but it led to Sree staging a walkout. Seeing the strong bond of the Khan sisters, the housemates have started plotting against them. With the housemates turning against the Khan Sisters, let's see how they defend themselves and put up a fight? Will they survive the house and fight all odds?
ALSO READ:
Bigg Boss 12 Day 1: New friendships, revealing relationships, nominations sum up the first day