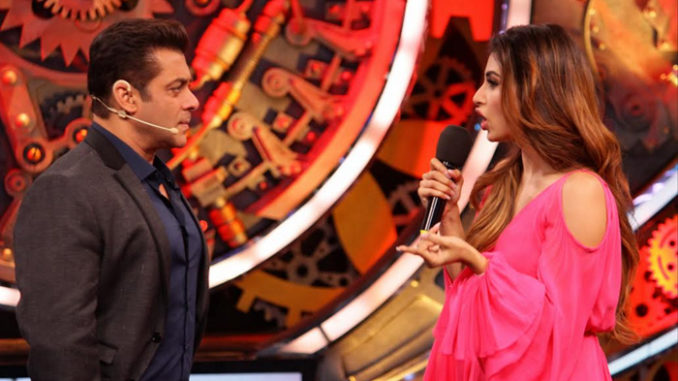 Weekend Ka Vaar this week, will test the close bonds of the contestants. Salman Khan is geared up to set the record straight with the contestants and their performance this week. Joining him today, is TV's popular face Mouni Roy who will add an extra dose of entertainment to the episode. Salman starts off by talking about the importance of captaincy and goes on to advice Arshi about her behaviour with fellow contestants. Salman then tackles the issue between Vikas and Priyank, and in a bid to explain their point, the duo end up in an argument with each other. An irritated Vikas states that it is useless trying to speak with Priyank.
One by one Salman calls contestants to a podium and interrogates them about the other contestants! He asks Luv about the person who Hina hates most in the house. Without batting an eyelid, he names Shilpa; to which Salman jokes about how after their journey in the house ends, they will work together as best friends in a series made by Vikas Gupta. Adding a touch of glamour, Mouni finds her way to the stage. The two sizzle with a dance performance on 'Swag Se Swagat.' While Salman is known to put people in a spot with his questions, today the tables will turn as Mouni takes on that role and asks him tricky questions. In a blast from the past, Mouni reveals some quirky and funny images of Salman from years ago. But the real test comes on when she asks him a series of questions where he has to choose one between two options. One of her main questions is if he were to save either Katrina Kaif or herself from drowning, who would he save?!
ALSO READ:
Bigg Boss 11 Day 74: Shilpa or Arshi, who will be the captain?