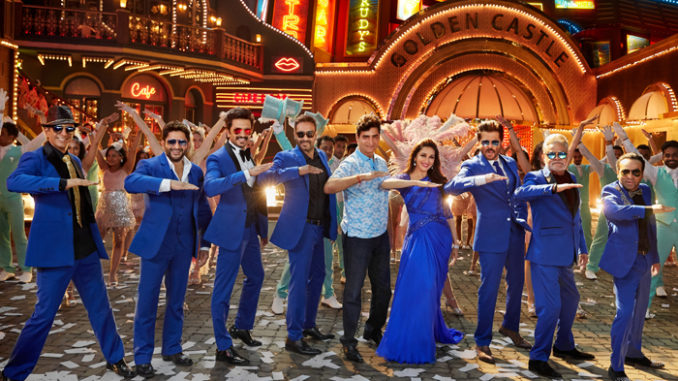 Director Indra Kumar recreated the popular 'Karz' song 'Paisa Yeh Paisa' for his next adventure comedy, 'Total Dhamaal'. The song features Ajay Devgn, Madhuri Dixit, Anil Kapoor, Jaaved Jaaferi, Arshad Warsi, Riteish Deshmukh, Indra Kumar and Sanjay Mishra.
Talking about the song, Anil Kapoor shares, "It feels great to be dancing to this classic number. I am matching steps with all these young stars and it feels great to be able to give it your best." Madhuri Dixit cited 'Paisa Yeh Paisa' as one of her all-time favourites. "I'm really happy that Indra Kumar decided to revisit this classic number. It's a song that I've grooved to for so many years. Even after so long, it retains its energy," she said. The actress, who is known for her dancing talent as much as for her acting chops, was modest when asked if she was the best dancer on the set. She replied, "I can't say I'm the best, because we have Jaaved and Arshad, who are trained dancers and a lot better than me. But yes, you can say that I am the best female dancer in the film."
Indra Kumar calls 'Total Dhamaal' his biggest film yet, both in terms of cast and budget. Explaining the reason behind recreating the 80s' track, he said, "Subhashji and his wonderful composers Laxmikant-Pyarelalji created this song many years ago and it's still relevant. Even now, people are chasing money. So, this song fits the theme of our film perfectly." Happy to have the hit jodi of Anil-Madhuri in his film, he added, "They're an iconic pair and they still create an electric atmosphere on screen together."
An adventure comedy, 'Total Dhamaal' is touted to feature thrilling stunt sequences. Indra Kumar said, "We have used action based situations to create humour. We also have four more songs to shoot, which we will do in the days to come." 'Total Dhamaal', presented by Fox Star Studios, produced by Ajay Devgn Ffilms, Indra Kumar, Ashok Thakeria, Sri Adhikari Brothers, Anand Pandit and Fox Star Studios, and co-produced by Jayantilal Gada and Sangeeta Ahir releases on December 7, 2018.
ALSO READ:
Sanjay Dutt ditches Total Dhamaal; signs thriller love story Malang